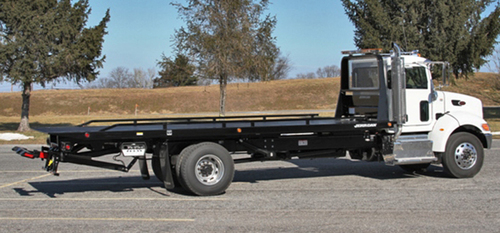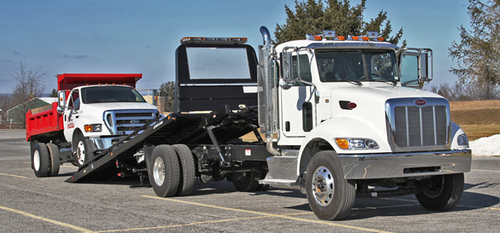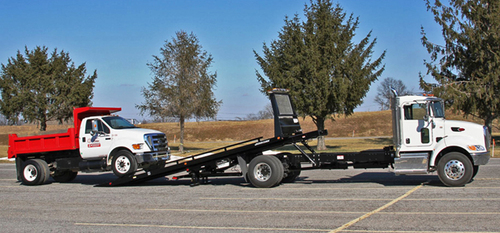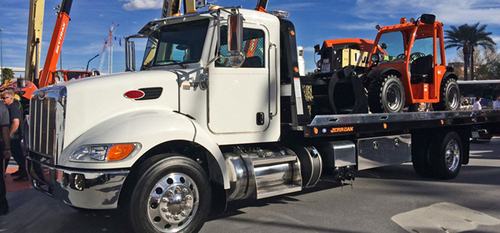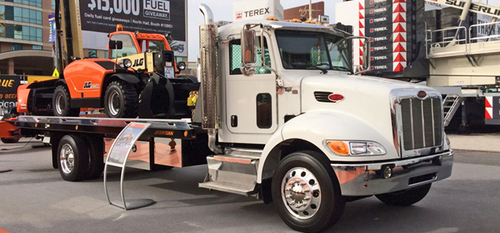 Fallsway Equipment is one of the largest suppliers of Jerr-Dan rollbacks in trucks in Ohio, Michigan, and Pennsylvania. Fallsway design, install, and paint units to customer specifications at our state-of-the-art Akron facility. We stock an extensive inventory of Jerr-Dan rollbacks and components.
Fallsway offers medium-duty carriers from Jerr-Dan capable of hauling up to 8.5-tons vehicles. These trucks offer extremely low loading angles, handling the demand you need for a medium-duty carrier.
7.5 Ton Aluminum & Steel Rollback
When it comes down to it, turn to Jerr-Dan 7.5 ton rollbacks for reliability and strength needed to complete the job. Built with exceptional engineering, to be strong and tough in any situation you may find yourself in. Utilize the maximum payload capacity of a single-rear axel chassis with the Jerr-Dan body. The Jerr-Dan decks are constructed to carry up to 15,000 lbs, available in widths 96" and 102", and in lengths up 22' and 24'. Jerr-Dan has no match in quality with its patented Jerr-Dan No-Lube slide pads and pivot joints, thus reducing maintenance costs over the life of the rollback. Experience the strength and durability with the 7.5 Ton rollback from Jerr-Dan.
Key Features Include:
Nylon Cable Chain Hose and Wiring System
Worm Gear Winch
ZOD Wheel Lift
Optional Wheel Lift
And more...
For more information on the 7.5 Ton Aluminum & Steel rollbacks, click here!
8.5 Ton XLP Aluminum & Steel Rollback
The 8.5 Ton XLP is built for transporting taller loads with its lower deck height that would otherwise be over height on standard rollback decks. Alongside with being able to transport taller loads, the lower deck also makes it more accessible from the ground for tying down the loads. The additional capacity and longer deck space give the operator an advantage of the standard carrier for more versatility out in the field. With the carrier being closer to the ground, the improved load angle will give you the added advantage to support loading low clearance vehicles or equipment.
For more information on the 8.5 Ton XLP Aluminium & Steel Rollbacks, ask us a question or call us at (855)-662-4379
Truck Equipment Information Request