Hiniker Spreaders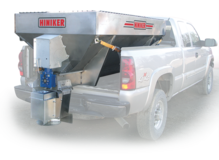 Name
Hiniker Spreaders
Featured Image


Link
/hiniker-spreaders
Brand
Hiniker

Type
Spreader

Content

Hiniker salt spreaders are built with the operator in mind, offering multiple solutions for any spreading needs. With adjustable deflectors for a customized spread pattern, Hiniker spreads correctly the first time around. Designed to keep running through the harshest of environments, Hiniker spreads will keep working and will get the job done.

Stainless Steel Tailgate Spreader

Conveyor Delivery Spreader

Dual-Motor Electric Auger Delivery Spreader

Contact us today for more information about Hiniker Salt Spreaders!

Form

Meta Description
Hiniker Salt Spreaders For Sale | Fallsway Equipment Company
Downloads
Hiniker Snow Plow Product Line
Hiniker salt spreaders are built with the operator in mind, offering multiple solutions for any spreading needs. With adjustable deflectors for a customized spread pattern, Hiniker spreads correctly the first time around. Designed to keep running through the harshest of environments, Hiniker spreads will keep working and will get the job done.
Stainless Steel Tailgate Spreader

Conveyor Delivery Spreader

Dual-Motor Electric Auger Delivery Spreader
Contact us today for more information about Hiniker Salt Spreaders!
Equipment Information Request