Jerr-Dan 50-Ton JFB Integrated Wrecker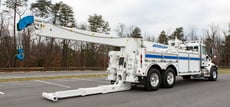 Name
Jerr-Dan 50-Ton JFB Integrated Wrecker
Featured Image


Link
/50-ton-jfb-integrated
Condition
New
Duty
Heavy-Duty

Towing Capacity
50 tons

Material
Steel

Content

Reach more and farther with the Jerr-Dan 50 Ton wrecker. Now built with the JFB Body, Jerr-Dan completes the package with more for your business: more towing performance, more storage, more time-saving organization. And the result? More to your bottom line.

One of the biggest Jerr-Dan dealers in the area, Fallsway upfits and customizes each towing and recovery unit to your specific needs at our state-of-the-art facility in Akron, Ohio. Learn more about Fallsway, the one-stop-shop for your towing and recovery needs by contacting us today!

Have a question? Contact us today!

Form

Meta Description
50-Ton JFB Integrated | No Vehicle Left Behind
Downloads
Spec Sheet
Reach more and farther with the Jerr-Dan 50 Ton wrecker. Now built with the JFB Body, Jerr-Dan completes the package with more for your business: more towing performance, more storage, more time-saving organization. And the result? More to your bottom line.
One of the biggest Jerr-Dan dealers in the area, Fallsway upfits and customizes each towing and recovery unit to your specific needs at our state-of-the-art facility in Akron, Ohio. Learn more about Fallsway, the one-stop-shop for your towing and recovery needs by contacting us today!
Have a question? Contact us today!
Equipment Information Request