Niles Forklifts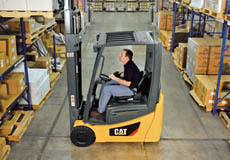 Fallsway Equipment Company is the exclusive distributor of CAT, Jungheinrich, Kalmar, Manitou and Mitsubishi forklifts in Niles, Ohio.
In addition to new forklifts, we also offer multi-vendor parts, cranes, used forklifts, forklift attachments and much more.
Do you already have a fleet of forklifts?
We will care for your entire fleet. Our fully equipped lift truck service department offers a full range of forklift services, including hauling and delivery, operator and technical training, fleet management and repairs.
Ed Biondillo is the forklift Territory Manager for Niles, Ohio. Please fill out the contact form below and Ed will be in touch to help you with your material handling needs.
Request Information / Contact Us