Navigator RT-4000 Forklift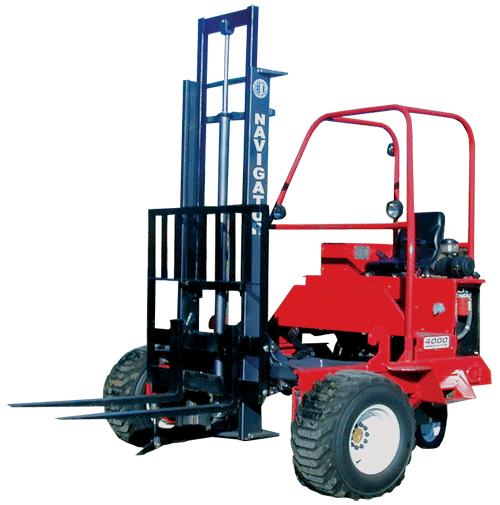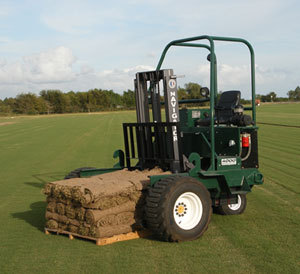 From Youngstown to Canton to Marion, Fallsway Equipment is the exclusive distributor of Navigator forklifts.
The Navigator RT-4000 has become a known favorite in the industry. The RT - 4000 is time-tested and by far one of the quickest, lightest, operator friendly two-wheel drive forklift in its class. While RT-4000 is one of the toughest most reliable units on the market, it still remains light enough to mount on most single axle trucks. New features include a powerful rubber mounted Kubota engine, improved hydraulic control assembly, and wider footsteps.
Applications include sod, mulch, agricultural feed, fertilizers, general building materials, brick, block, stone, and pavers.
Capacity @ 24" Load Center

4000 lbs.

Lift Height (standard)

96 In.

Lift Height (optional)

72 In., 120 In.

Overall Height

98.5 In.

Mounted Overhang

64 In.

Width

100 In.

Weight (Ready to Operate)

3900 lbs.

Mast Tilt

8°<---->

Side Shift (optional)

5 In.

Frame Opening

60 In.

Fork Travel

30 In.

Drive Tires (standard)

(2) 31 x 15.5 x 15 Industrial Bar Tread Tires

Drive Tires (optional)

(2) 31 x 15.5 x 15 Agricultural Bar Tread Tires
(2) 31 x 15.5 x 15 Sand / Turf Tread Tires

Transmission

Hydrostatic Drive

Engine

37 HP Water Cooled Diesel

Max Travel Speed

9 MPH

Nav-Reach (optional)

Yes

Jumbo Caster (optional)

Yes
Questions? Contact Fallsway today!
Forklift Equipment Information Request