Waltco Flipaway Liftgates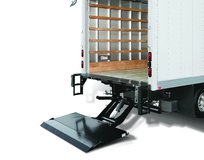 Name
Waltco Flipaway Liftgates
Featured Image


Link
/waltco-flipaway-liftgates
Make
Waltco

Gate Type
Tuck-Under (Stowaway) Gates
Content

Waltco has several different options for your tuck-under liftgate needs, guaranteeing you will find the perfect fit for your specific application. With capacities ranging from 2,000lbs to 5,000lbs, choose from the different stowaway series:

WFL Series: The industry's widest level ride slimline platform flipaway liftgate
EM Series:

Large, gently sloped platform stows under truck body for easy dock loading

EMC Series: This gate has twin cylinders, providing maximum clearance and performance
HLF Series: A

simplified design and maximum performance for a variety of truck and trailer applications

C Series:

Features and original flipaway design means smoother, hassle-free deliveries

Serving Ohio, Michigan, Pennsylvania, West Virginia, and Kentucky, Fallsway upfits Waltco Liftgates and all other Truck Equipment at our state-of-the-art facility in Akron, Ohio. Take advantage of industry-leading products and support by contacting us today!

Have a question? Contact us today!

Form

Meta Description
Waltco has a range of tuck under liftgates to serve the specific needs of your application. Learn more about Waltco liftgates and Fallsway Equipment today!
Downloads
Waltco C Series Flipaway Brochure
Waltco EM Series Flipaway Brochure
Waltco EMC Series Flipaway Brochure
Waltco HLF Series Flipaway Brochure
Waltco WFL Series Flipaway Brochure
Waltco has several different options for your tuck-under liftgate needs, guaranteeing you will find the perfect fit for your specific application. With capacities ranging from 2,000lbs to 5,000lbs, choose from the different stowaway series:
WFL Series: The industry's widest level ride slimline platform flipaway liftgate
EM Series:

Large, gently sloped platform stows under truck body for easy dock loading

EMC Series: This gate has twin cylinders, providing maximum clearance and performance
HLF Series: A

simplified design and maximum performance for a variety of truck and trailer applications

C Series:

Features and original flipaway design means smoother, hassle-free deliveries
Serving Ohio, Michigan, Pennsylvania, West Virginia, and Kentucky, Fallsway upfits Waltco Liftgates and all other Truck Equipment at our state-of-the-art facility in Akron, Ohio. Take advantage of industry-leading products and support by contacting us today!
Have a question? Contact us today!
Equipment Information Request