Jungheinrich Small Parts Order Picker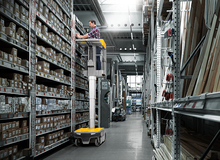 Name
Jungheinrich Small Parts Order Picker
Featured Image


Link
/ekm-202
Fuel Type
Electric

Lift Capacity
< 1,999

Brand
Jungheinrich

Content

The EMK 202 from Jungheinrich is a versatile small parts order picker that can be used for multiple applications. Enjoy a sturdier, safer, and efficient alternative to conventional ladders and a large workstation with ergonomically configured controls for simultaneous lifting and driving. Thanks to its compact dimensions, versatility, and ergonomics, the EKM 202 small parts order picker offers more protection as well as comfort for employees, significantly increasing productivity.

KEY BENEFITS:

Order picking at reach heights of up to 17'4"
Automatic closing doors
Adjustable storage tray
Extreme agility
Robust steel frame

Available for Purchase, Lease, Rent, or Demo!

Have a question? Contact us today!

Form

Meta Description
The EKM202 Small Parts Order Picker from Jungheinrich. Available for sale, rent, or demo from Fallsway Equipment.
Downloads
Spec Sheet
The EMK 202 from Jungheinrich is a versatile small parts order picker that can be used for multiple applications. Enjoy a sturdier, safer, and efficient alternative to conventional ladders and a large workstation with ergonomically configured controls for simultaneous lifting and driving. Thanks to its compact dimensions, versatility, and ergonomics, the EKM 202 small parts order picker offers more protection as well as comfort for employees, significantly increasing productivity.
KEY BENEFITS:
Order picking at reach heights of up to 17'4"
Automatic closing doors
Adjustable storage tray
Extreme agility
Robust steel frame
Available for Purchase, Lease, Rent, or Demo!
Have a question? Contact us today!
Equipment Information Request