MHEDA MVP
You are working with an award-winning company!
MHEDA, the Material Handling Equipment Distributors Association, has awarded Fallsway with the MHEDA MVP Award, an annual recognition program exclusively for distributor member companies. We are one of only 43 companies to have earned this award in 2019. Not only did we earn this in 2019, but this is our 7th straight year winning this award. We appreciate all our manufacturers, customers, and employees who have helped us accomplish this prestigious award!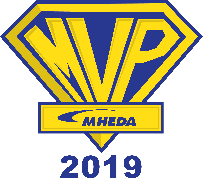 So, what exactly is the MHEDA MVP award? The MHEDA MVP is an award granted to companies that demonstrate a commitment to partners' success including customers, suppliers, and employees. Along with documenting our company's " community give back" efforts, we satisfied criteria in the following essential areas:
Industry relations
Customer Relations
Peer-to-Peer Relations
Education for Employees
Business best Practices
We are deeply honored to have earned this award and will work hard to fully support our customers, manufacturers, and employees in taking this to the next level!
For more information about MHEDA or the MVP award, visit their website at www.mheda.org.