Tommy Gate Tuckunder Series Liftgates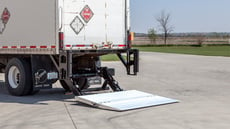 Name
Tommy Gate Tuckunder Series Liftgates
Featured Image


Link
/tommy-gate-tuckunder-series-liftgates
Make
Tommy Gate

Gate Type
Tuck-Under (Stowaway) Gates
Content

Protected from the outside elements, the Tommy Gate Tuckunder Series liftgate is stored under the flatbed, stake, or van body when not being used. Simple to operate, enjoy a sturdy design that guaranteed consistent lifting action up to 3,000 lbs. Working harder so you don't have to.

Tommy Gate Liftgates are upfit and installed at our Fallsway headquarters in Akron. We proudly serve Ohio and the surrounding area.

Have a question? Contact us today!

Form

Meta Description
The Tuckunder Series Liftgate from Tommy Gate is simple to operate protected from outside elements. Upfit by Fallsway in Ohio.
Downloads
Tommy Gate Product Guide | Fallsway Equipment Company
Protected from the outside elements, the Tommy Gate Tuckunder Series liftgate is stored under the flatbed, stake, or van body when not being used. Simple to operate, enjoy a sturdy design that guaranteed consistent lifting action up to 3,000 lbs. Working harder so you don't have to.
Tommy Gate Liftgates are upfit and installed at our Fallsway headquarters in Akron. We proudly serve Ohio and the surrounding area.
Have a question? Contact us today!
Equipment Information Request