Tommy Gate Railgates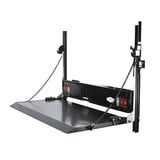 Name
Tommy Gate Railgates
Featured Image


Link
/tommy-gate-railgates
Make
Tommy Gate

Gate Type
Rail Gates
Content

Perfect for handling heavy, wheel-based cargo, the Tommy Gate Railgate series offers high-cycle and standard models. With up to 3,000 lbs in lift capacity, find the perfect fit for your personal, commercial, or industrial vehicle and application.

Fallsway installs Tommy Gate liftgates at our state-of-the-art Ohio facility.

Have a question? Contact us today!

Form

Meta Description
Railgates from Tommy Gate are ideal for handling heavy, sensitive, wheel based cargo. Available in high-cycle and standard models, installed by Fallsway.
Downloads
Tommy Gate Product Guide | Fallsway Equipment Company
Perfect for handling heavy, wheel-based cargo, the Tommy Gate Railgate series offers high-cycle and standard models. With up to 3,000 lbs in lift capacity, find the perfect fit for your personal, commercial, or industrial vehicle and application.
Fallsway installs Tommy Gate liftgates at our state-of-the-art Ohio facility.
Have a question? Contact us today!
Equipment Information Request