Snorkel TM16E Self-Propelled Mast Lift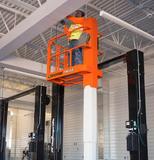 Name
Snorkel TM16E Self-Propelled Mast Lift
Featured Image


Link
/snorkel-tm16e
Fuel Type
Electric

Platform Height
20' - 29'
Application
Indoor

Brand
Snorkel

Condition
New
Content

The Snorkel TM16E Self-Propelled Mast Lift

The Snorkel TM16E delivers the highest working height in Snorkel's line of self-propelled telescopic mast lifts. Featuring an electric drive system, this mast lift provides longer duty cycles for any operation. Smooth proportional controls allow for accurate positioning where needed most.

Available for Purchase, Lease, Rent, or Demo!

Have a question? Contact us today!

Form

Meta Description
Snorkel TM16E | Self-Propelled Mast Lift
Downloads
Spec Sheet
The Snorkel TM16E Self-Propelled Mast Lift
The Snorkel TM16E delivers the highest working height in Snorkel's line of self-propelled telescopic mast lifts. Featuring an electric drive system, this mast lift provides longer duty cycles for any operation. Smooth proportional controls allow for accurate positioning where needed most.
Available for Purchase, Lease, Rent, or Demo!
Have a question? Contact us today!
Equipment Information Request