Snorkel SR630 Telehandler | 6,000 lb Capacity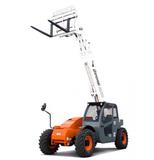 Name
Snorkel SR630 Telehandler | 6,000 lb Capacity
Featured Image


Link
/snorkel-sr630
Fuel Type
Diesel

Lift Capacity
4,001 - 6,000

Brand
Snorkel

Content

The Snorkel SR630 telehandler has a 6,000 lb max lift capacity and 30 ft 7 in max lift height and is available from Fallsway Equipment.

This rough terrain telehandler is lightweight for the best possible maneuverability on the job site. This compact telehandler features a 6° chassis frame sway and a boom lift point for the safest possible handling of suspended loads.

Available for Purchase, Lease, Rent, or Demo!

Have a question? Contact us today!

Form

Meta Description
With a 6,000 lb max lift capacity and over a 30' max lifting height, the Snorkel SR630 Telehandler redefines maneuverability. Learn more at Fallsway.com
Downloads
SR630 Spec Sheet
The Snorkel SR630 telehandler has a 6,000 lb max lift capacity and 30 ft 7 in max lift height and is available from Fallsway Equipment.
This rough terrain telehandler is lightweight for the best possible maneuverability on the job site. This compact telehandler features a 6° chassis frame sway and a boom lift point for the safest possible handling of suspended loads.
Available for Purchase, Lease, Rent, or Demo!
Have a question? Contact us today!
Equipment Information Request