Snorkel SR1054 Telehandler | 10,000 lb Capacity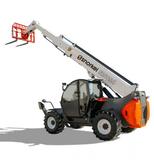 Name
Snorkel SR1054 Telehandler | 10,000 lb Capacity
Featured Image


Link
/snorkel-sr1054
Fuel Type
Diesel

Lift Capacity
8,001 - 10,000

Brand
Snorkel

Content

Available at Fallsway Equipment, the SR1054 telehandler has a 10,000 lb max lift capacity and nearly a 54' max lifting height.

The Snorkel SR1054 rough terrain telehandler easily handles even the heaviest loads. Built to last, this telehandler features a powerful 4-wheel drive and a 3-section boom for extended reach. Outriggers and leveling capabilities come standard for expected performance on any operation.

Available for Purchase, Lease, Rent, or Demo!

Have a question? Contact us today!

Form

Meta Description
The Snorkel SR1054 telehandler has a 10,000 lb capacity and 54' max lifting height. Click here to find out more.
Downloads
SR1054 Spec Sheet
Available at Fallsway Equipment, the SR1054 telehandler has a 10,000 lb max lift capacity and nearly a 54' max lifting height.
The Snorkel SR1054 rough terrain telehandler easily handles even the heaviest loads. Built to last, this telehandler features a powerful 4-wheel drive and a 3-section boom for extended reach. Outriggers and leveling capabilities come standard for expected performance on any operation.
Available for Purchase, Lease, Rent, or Demo!
Have a question? Contact us today!
Equipment Information Request