Snorkel 400S Telescopic Boom Lift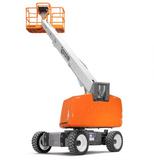 Name
Snorkel 400S Telescopic Boom Lift
Featured Image


Link
/snorkel-400s
Fuel Type
Diesel

Platform Height
40' - 49'
Application
Rough-Terrain

Brand
Snorkel

Boom Type
Telescopic Boom Lift

Condition
New
Content

The 400S from Snorkel is a mid-sized diesel telescopic boom lift designed for excellent rough terrain performance thanks to 4 wheel drive. Ideal for construction and industrial applications, the 400S is simple to operate and easy to maintenance and has a 600lb. platform capacity, 40' platform height, and 46' working height.

Learn more about the highly-versatile Snorkel 400S today!

Have a question? Contact us today!

Form

Meta Description
The 400S is a telescopic boom lift from Snorkel that lifts up to 40 feet and delivers at a high level in even the toughest conditions.
Downloads
Snorkel 400S Telescopic Boom Lift Brochure
The 400S from Snorkel is a mid-sized diesel telescopic boom lift designed for excellent rough terrain performance thanks to 4 wheel drive. Ideal for construction and industrial applications, the 400S is simple to operate and easy to maintenance and has a 600lb. platform capacity, 40' platform height, and 46' working height.
Learn more about the highly-versatile Snorkel 400S today!
Have a question? Contact us today!
Equipment Information Request