Rocla Automated Guided Vehicles (AGV's)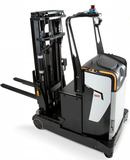 Name
Rocla Automated Guided Vehicles (AGV's)
Featured Image


Link
/rocla-automated-guided-vehicles-agv-s
Fuel Type
Electric

Lift Capacity
2,000 - 4,000
4,001 - 6,000

Brand
Rocla

Content

Thinking about automating your material handling with Automated Guided Vehicles (AGVs)? We understand it is a big decision and every company and operation is different. We are prepared to work with you at your own pace, provide you with all the information you need to make a decision, and offer full support along the way.

Rocla AGV products offer a complete range of AGV solutions, providing many different products based on your specific operation and needs.

Rocla Products:

Reach Mast AGV
Low lift AGV
Fork Over Lift AGV
Counterbalance AGV
Straddle AGV

To learn more information or find out how your operation could benefit from Automated Guided Vehicles (AGVs) contact us today!

Form

Meta Description
With various automated guided vehicles such as the counterbalance, reach truck, pallet jack, and much more, Rocla has the AGV solution for your business.
Downloads
AGV Coach Brochure
AGV Reach Truck Brochure
Rocla AGV Brochure
Thinking about automating your material handling with Automated Guided Vehicles (AGVs)? We understand it is a big decision and every company and operation is different. We are prepared to work with you at your own pace, provide you with all the information you need to make a decision, and offer full support along the way.
Rocla AGV products offer a complete range of AGV solutions, providing many different products based on your specific operation and needs.
Rocla Products:
Reach Mast AGV
Low lift AGV
Fork Over Lift AGV
Counterbalance AGV
Straddle AGV
To learn more information or find out how your operation could benefit from Automated Guided Vehicles (AGVs) contact us today!
Equipment Information Request