Mitsubishi Walkie End-Rider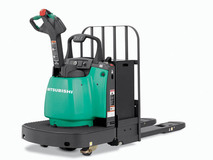 Name
Mitsubishi Walkie End-Rider
Featured Image


Link
/mitsubishi-pwr30-pwr40
Fuel Type
Electric

Lift Capacity
6,001 - 8,000

Brand
Mitsubishi

Content

Mitsubishi Walkie End-Rider from Mitsubishi range from 6,000 to 8,000 lb. capacity.

Meet the end-rider with the real moving power.

Flexible Operation
1. Multiple Applications
Adaptability is everything with the PWR30/PWR40 end riders, making it the prime solution for a wide variety of jobs. For groundlevel jobs, its speed and efficiency are top tier.

2. Long Distances
Long travel distances can sometimes be an obstacle in food packaging, general stocking and other applications. The PWR30 series can be equipped with many ergonomic features such as an optional suspended platform – which can take the stress out on long shifts.

Available for Purchase, Lease, Rent, or Demo!

Have a question? Contact us today!

Form

Meta Description
The PWR30/PWR40 Walkie End-Rider from Mitsubishi. Available for purchase, rent, or demo from Fallsway Equipment.
Downloads
PWR30/PWR40 Information Brochure
Mitsubishi Walkie End-Rider from Mitsubishi range from 6,000 to 8,000 lb. capacity.
Meet the end-rider with the real moving power.
Flexible Operation
1. Multiple Applications
Adaptability is everything with the PWR30/PWR40 end riders, making it the prime solution for a wide variety of jobs. For groundlevel jobs, its speed and efficiency are top tier.
2. Long Distances
Long travel distances can sometimes be an obstacle in food packaging, general stocking and other applications. The PWR30 series can be equipped with many ergonomic features such as an optional suspended platform – which can take the stress out on long shifts.
Available for Purchase, Lease, Rent, or Demo!
Have a question? Contact us today!
Equipment Information Request