Mitsubishi Light-Duty Stacker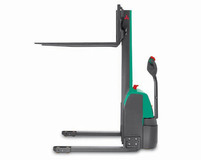 Name
Mitsubishi Light-Duty Stacker
Featured Image


Link
/mitsubishi-pwf11-pwt11
Fuel Type
Electric

Lift Capacity
2,000 - 4,000

Brand
Mitsubishi

Content

2200 lb. Capacity Light-Duty Walkie Stacker from Mitsubishi.

Compact, Flexible, and Ready to Work

Operator Control
Providing additional control, the crawl speed tool allows the operator to pinwheel in tight spaces, such as inside trailers. The handle can also be used in the fully upright position for increased productivity when turning in small areas.

Easy-To-Use
An optional keyless entry pad limits access to authorized personnel only. The keypad also provides pre-programmed performance levels designed to meet the experience level of various operators depending on the application.

Available for Purchase, Lease, Rent, or Demo!

Have a question? Contact us today!

Form

Meta Description
2200 LB Capacity Light-Duty Walkie Stacker from Mitsubishi. Available for sale, rent, or demo. Contact Fallsway Equipment today!
Downloads
PWF11-PWT11 Information Brochure
2200 lb. Capacity Light-Duty Walkie Stacker from Mitsubishi.
Compact, Flexible, and Ready to Work
Operator Control
Providing additional control, the crawl speed tool allows the operator to pinwheel in tight spaces, such as inside trailers. The handle can also be used in the fully upright position for increased productivity when turning in small areas.

Easy-To-Use
An optional keyless entry pad limits access to authorized personnel only. The keypad also provides pre-programmed performance levels designed to meet the experience level of various operators depending on the application.
Available for Purchase, Lease, Rent, or Demo!
Have a question? Contact us today!
Equipment Information Request