Mitsubishi Walkie Pallet Jack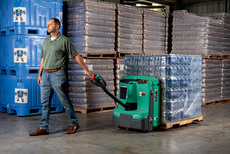 Name
Mitsubishi Walkie Pallet Jack
Featured Image


Link
/mitsubishi-pw23-pw30
Fuel Type
Electric

Lift Capacity
4,001 - 6,000

Brand
Mitsubishi

Content

Smooth operation in confined spaces.

1. Reduced Wear And Tear
The optional ProTracLink stability caster wheel system promotes stabilization within the forklift when moving large or loose loads. The system then evenly distributes forces during travel, helping to reduce the chance of damage when traveling over dock plates.
2. Easy Access
Optional 2-inch display keeps operator well informed at all times on battery discharge status, number of operating hours, event codes, and which program the truck is in, and truck can be accessed with key, Easy Access via soft-key, or PIN Code.
3. Enclosed Integrated Charger
The enclosed integrated charger option helps increase productivity by allowing convenient opportunity charging during breaks and lunches. The added benefit is increased uptime in extended shift operations.
4. Additional Improvements
Additional improvements include streamlined cables/wires for easier serviceability, speed control tiller for reduced speed in critical tiller angles, optimized load frame for increased productivity, unit reflectors, and many more.

Available for Purchase, Lease, Rent, or Demo!

Have a question? Contact us today!

Form

Meta Description
4,500 - 6,000 lb. capacity walkie pallet jack from Mitsubishi. Available for purchase, rent, or demo from Fallsway Equipment.
Downloads
PW23-PW30 Information Brochure
Smooth operation in confined spaces.
1. Reduced Wear And Tear
The optional ProTracLink stability caster wheel system promotes stabilization within the forklift when moving large or loose loads. The system then evenly distributes forces during travel, helping to reduce the chance of damage when traveling over dock plates.
2. Easy Access
Optional 2-inch display keeps operator well informed at all times on battery discharge status, number of operating hours, event codes, and which program the truck is in, and truck can be accessed with key, Easy Access via soft-key, or PIN Code.
3. Enclosed Integrated Charger
The enclosed integrated charger option helps increase productivity by allowing convenient opportunity charging during breaks and lunches. The added benefit is increased uptime in extended shift operations.
4. Additional Improvements
Additional improvements include streamlined cables/wires for easier serviceability, speed control tiller for reduced speed in critical tiller angles, optimized load frame for increased productivity, unit reflectors, and many more.
Available for Purchase, Lease, Rent, or Demo!
Have a question? Contact us today!
Equipment Information Request