Mitsubishi Mid-Size IC Cushion Forklift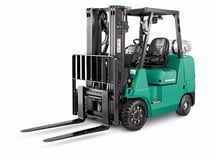 Name
Mitsubishi Mid-Size IC Cushion Forklift
Featured Image


Link
/mitsubishi-fgc35k-fgc70k
Fuel Type
LP Gas

Application
Warehouse

Tires
Cushion

Lift Capacity
6,001 - 8,000
8,001 - 10,000
12,001 - 15,000
15,001 - 20,000
10,001 - 12,000

Brand
Mitsubishi

Content

7,000-15,500 lb. capacity internal combustion LP cushion tire forklifts from Mitsubishi are built to perform in demanding applications.

Comfortable, Productive, Smart, Efficient, the FGC35K-FGC70K has it all.

Designed specifically for the unique requirements of the paper industry to maximize value and reduce the need for field modifications.

Hydraulic lift line accumulator
Load bearing clamp lockout
Hydraulic flow control valve
High pass through the radiator
Tandem transmission oil coolers
Louvered radiator covers
Carriage slider blocks
Wrapped exhaust pipes

Mitsubishi Mid-Size IC Cushion Forklift available for Purchase, Lease, Rent, or Demo! Warehouse Equipment, Service, and Solutions in 22 counties across Ohio, PA, & WV from Fallsway.

Have a question? Contact us today!

Form

Meta Description
7000; 15500; lb; capacity; forklift; cushion; tire; Mitsubishi; FGC35K; FGC70K; lift; truck; warehouse; equipment; for sale; ohio; sales; parts; rentals; service; mid size
Downloads
FGC35K-FGC70K Information Brocure
7,000-15,500 lb. capacity internal combustion LP cushion tire forklifts from Mitsubishi are built to perform in demanding applications.
Comfortable, Productive, Smart, Efficient, the FGC35K-FGC70K has it all.
Designed specifically for the unique requirements of the paper industry to maximize value and reduce the need for field modifications.
Hydraulic lift line accumulator
Load bearing clamp lockout
Hydraulic flow control valve
High pass through the radiator
Tandem transmission oil coolers
Louvered radiator covers
Carriage slider blocks
Wrapped exhaust pipes
Mitsubishi Mid-Size IC Cushion Forklift available for Purchase, Lease, Rent, or Demo! Warehouse Equipment, Service, and Solutions in 22 counties across Ohio, PA, & WV from Fallsway.
Have a question? Contact us today!
Equipment Information Request