Mitsubishi Small IC Cushion Forklift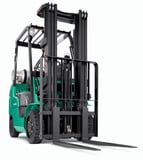 Name
Mitsubishi Small IC Cushion Forklift
Featured Image


Link
/mitsubishi-fgc15n-fgc33
Fuel Type
LP Gas

Application
Warehouse

Tires
Cushion

Lift Capacity
2,000 - 4,000
4,001 - 6,000

Brand
Mitsubishi

Content

Comfort comes standard in the Mitsubishi FGC15N-FGC33N Series 3,000 - 6,500 lb. capacity internal combustion LP cushion tire forklift.

Designed for operator comfort
Adjustable seating for flexibility
Enhanced visibility
Memory tilt steering column

All come together to create a working environment that reduces work fatigue through even the longest days.

Ergonomic Seat: The FGC15N forklift series features seats with adjustable forward and backward movement, added side support in the back cushion, and an orange, anti-cinch seat belt, creating a comfortable work environment for operators of varying heights. An optional full-suspension seat is available on the FGC20-FGC33N models for additional support during any shift.

Mitsubishi Small IC Cushion Forklifts Available for Purchase, Lease, Rent, or Demo! Lift Truck Sales, Service, and Support from Fallsway.

Have a question? Contact us today!

Form

Meta Description
Mitsubishi Small IC Cushion Forklift | FGC15N-FGC33N | Fallsway Equipment Co
Downloads
FGC15N-FGC33N Information Brochure
Comfort comes standard in the Mitsubishi FGC15N-FGC33N Series 3,000 - 6,500 lb. capacity internal combustion LP cushion tire forklift.
Designed for operator comfort
Adjustable seating for flexibility
Enhanced visibility
Memory tilt steering column
All come together to create a working environment that reduces work fatigue through even the longest days.
Ergonomic Seat: The FGC15N forklift series features seats with adjustable forward and backward movement, added side support in the back cushion, and an orange, anti-cinch seat belt, creating a comfortable work environment for operators of varying heights. An optional full-suspension seat is available on the FGC20-FGC33N models for additional support during any shift.
Mitsubishi Small IC Cushion Forklifts Available for Purchase, Lease, Rent, or Demo! Lift Truck Sales, Service, and Support from Fallsway.
Have a question? Contact us today!
Equipment Information Request