Mitsubishi Mid-Size IC Pneumatic Forklift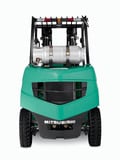 Name
Mitsubishi Mid-Size IC Pneumatic Forklift
Featured Image


Link
/mitsubishi-fg40n-fg55n-fd40n-fd55n
Fuel Type
Diesel
LP Gas
Gas

Application
Indoor & Outdoor

Tires
Pneumatic

Lift Capacity
8,001 - 10,000
10,001 - 12,000

Brand
Mitsubishi

Content

Comfort comes standard when you step into an FG40N-FG55N Series 8,000 - 12,000 lb. capacity pneumatic tire diesel forklift from Mitsubishi.

Designed for operator flexibility
Comfort seating
Enhanced visibility for safety
Memory tilt steering

Together creates a working environment that reduces fatigue through even the longest shifts.

Smooth, powerful engines
Enhanced engine protection
Reliable components
Easy service access
Flexible options

These forklifts are built with the operator in mind.

Mitsubishi Mid-Size IC Pneumatic Forklift available for Purchase, Lease, Rent, or Demo! Lift Truck sales, service, support, and parts from Fallsway.

Have a question? Contact us today!

Form

Meta Description
8000; 12000; lb; capacity; forklift; pneumatic; tire; Mitsubishi; FG40N; FG55N; lift; truck; equipment; outdoor; for sale; ohio; sales; service; parts; rentals
Downloads
FG40N-FG55N/FD40N-FD55N Information Brochure
Comfort comes standard when you step into an FG40N-FG55N Series 8,000 - 12,000 lb. capacity pneumatic tire diesel forklift from Mitsubishi.
Designed for operator flexibility
Comfort seating
Enhanced visibility for safety
Memory tilt steering
Together creates a working environment that reduces fatigue through even the longest shifts.
Smooth, powerful engines
Enhanced engine protection
Reliable components
Easy service access
Flexible options
These forklifts are built with the operator in mind.
Mitsubishi Mid-Size IC Pneumatic Forklift available for Purchase, Lease, Rent, or Demo! Lift Truck sales, service, support, and parts from Fallsway.
Have a question? Contact us today!
Equipment Information Request