Mitsubishi Mid/Large Diesel Pneumatic Forklift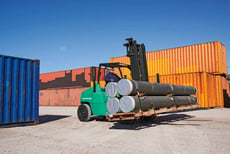 Name
Mitsubishi Mid/Large Diesel Pneumatic Forklift
Featured Image


Link
/mitsubishi-fd70n1
Fuel Type
Diesel
LP Gas

Application
Rough Terrain

Tires
Pneumatic

Lift Capacity
15,001 - 20,000

Brand
Mitsubishi

Content

Expect productivity, experience enhanced performance with a powerful low-emission engine from 15,500 lb. capacity diesel pneumatic tire forklifts from Mitsubishi.

Outstanding power and performance
Fuel-efficient engine
Durable steel frame for rugged applications
Greater uptime, less maintenance

The Tier 4 Final Approach:
Features a compact Diesel Oxidation Catalyst (DOC) and Selective Catalytic Reduction (SRC) aftertreatment solution that meets or exceeds U.S. EPA Tier 4 Final standards. This technology is
designed to be maintenance free for the life of the engine.

Mitsubishi Mid/Large Diesel Pneumatic Forklift available for Purchase, Lease, Rent, or Demo from Fallsway Equipment Company.

Have a question? Contact us today!

Form

Meta Description
15500; lb; capacity; forklift; lp; diesel; model; Mitsubishi; FD70N1; pneumatic; tires; lift; truck; outdoor; equipment; ohio; for sale; service; support
Downloads
FD70N1 Information Brochure
Expect productivity, experience enhanced performance with a powerful low-emission engine from 15,500 lb. capacity diesel pneumatic tire forklifts from Mitsubishi.
Outstanding power and performance
Fuel-efficient engine
Durable steel frame for rugged applications
Greater uptime, less maintenance
The Tier 4 Final Approach:
Features a compact Diesel Oxidation Catalyst (DOC) and Selective Catalytic Reduction (SRC) aftertreatment solution that meets or exceeds U.S. EPA Tier 4 Final standards. This technology is
designed to be maintenance free for the life of the engine.
Mitsubishi Mid/Large Diesel Pneumatic Forklift available for Purchase, Lease, Rent, or Demo from Fallsway Equipment Company.
Have a question? Contact us today!
Equipment Information Request