Mitsubishi Large Diesel Pneumatic Forklift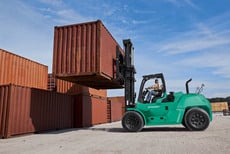 Name
Mitsubishi Large Diesel Pneumatic Forklift
Featured Image


Link
/mitsubishi-fd100n2-fd160an2
Fuel Type
Diesel
LP Gas

Application
Rough Terrain
Indoor & Outdoor

Tires
Pneumatic

Lift Capacity
20,001 - 30,000
30,001 - 40,000

Brand
Mitsubishi

Content

Expert performance, a power low-emissions engine for maximum productivity from 22,000 - 36,000 lb.capacity diesel pneumatic tire forklifts Mitsubishi.

Fantastic durability and performance
Fuel-efficient engine
Lower maintenance for increased uptime

The FD100N2-FD160AN2 series has the power and performance that tough applications demand. Simplified maintenance means less downtime and more time working. Whether it's scheduled maintenance or daily inspection, this forklift series makes it easier to get back to the job.

Easy-to-remove floor panel and steel side covers; no tools required
Greater uptime and lower planned maintenance costs
Easy access to all major components
Less time consuming daily inspections

Mitsubishi Large Diesel Pneumatic Forklift available for Purchase, Lease, Rent, or Demo! Fallsway proudly sells, services, and supports Mitsubishi Lift Trucks across 22 counties in Ohio, Pennsylvania, and West Virginia.

Have a question? Contact us today!

Form

Meta Description
22,000 -36,000 lb.capacity diesel pneumatic tire forklifts Mitsubishi. Lift truck and equipment sales, service, and support from Fallsway.
Downloads
FD100N2-FD160AN Information Brochure
Expert performance, a power low-emissions engine for maximum productivity from 22,000 - 36,000 lb.capacity diesel pneumatic tire forklifts Mitsubishi.
Fantastic durability and performance
Fuel-efficient engine
Lower maintenance for increased uptime
The FD100N2-FD160AN2 series has the power and performance that tough applications demand. Simplified maintenance means less downtime and more time working. Whether it's scheduled maintenance or daily inspection, this forklift series makes it easier to get back to the job.
Easy-to-remove floor panel and steel side covers; no tools required
Greater uptime and lower planned maintenance costs
Easy access to all major components
Less time consuming daily inspections
Mitsubishi Large Diesel Pneumatic Forklift available for Purchase, Lease, Rent, or Demo! Fallsway proudly sells, services, and supports Mitsubishi Lift Trucks across 22 counties in Ohio, Pennsylvania, and West Virginia.
Have a question? Contact us today!
Equipment Information Request