Mitsubishi Stand-Up Counterbalanced Forklift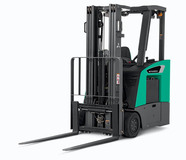 Name
Mitsubishi Stand-Up Counterbalanced Forklift
Featured Image


Link
/mitsubishi-fbcs14n-fbcs18nt
Fuel Type
Electric

Application
Warehouse

Tires
Cushion

Lift Capacity
2,000 - 4,000

Brand
Mitsubishi

Content

3,000 - 4,000 lb. capacity stand-up counterbalanced forklift from Mitsubishi, designed to perform in very confined spaces.

Personalized Solutions - Designed with standard cushion tires and a variety of mast and load handling options, the FBCS14N-FBCS18N series is ideal for dock-to-stock applications, shuttling goods, or moving large loads in confined spaces.

Performance Customization - Three programmed performance modes and a number of performance parameters can be adjusted from the display to suit a wide range of operator and application requirements or preferences.

Mitsubishi Stand-Up Counterbalanced Forklift available for Purchase, Lease, Rent, or Demo! Fallsway sells, services, rents, and supports Mitsubishi Lift Trucks and Warehouse Equipment across 22 counties in Ohio, Pennsylvania, and West Virginia.

Have a question? Contact us today!

Form

Meta Description
Mitsubishi Stand-Up Counterbalanced Forklift | FBCS14N - FBCS18N | Fallsway Company Co.
Downloads
FBCS14N - FBCS18N Information Brochure
3,000 - 4,000 lb. capacity stand-up counterbalanced forklift from Mitsubishi, designed to perform in very confined spaces.
Personalized Solutions - Designed with standard cushion tires and a variety of mast and load handling options, the FBCS14N-FBCS18N series is ideal for dock-to-stock applications, shuttling goods, or moving large loads in confined spaces.
Performance Customization - Three programmed performance modes and a number of performance parameters can be adjusted from the display to suit a wide range of operator and application requirements or preferences.
Mitsubishi Stand-Up Counterbalanced Forklift available for Purchase, Lease, Rent, or Demo! Fallsway sells, services, rents, and supports Mitsubishi Lift Trucks and Warehouse Equipment across 22 counties in Ohio, Pennsylvania, and West Virginia.
Have a question? Contact us today!
Equipment Information Request