Mitsubishi Mid-Size Electric Cushion Forklift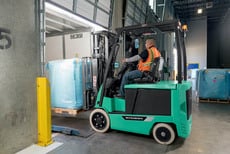 Name
Mitsubishi Mid-Size Electric Cushion Forklift
Featured Image


Link
/mitsubishi-fbc23n-fbc30ln
Fuel Type
Electric

Application
Warehouse

Tires
Cushion

Lift Capacity
4,001 - 6,000
6,001 - 8,000

Brand
Mitsubishi

Content

4,500 - 6,500 lb capacity electric cushion tire forklifts from Mitsubishi.

From the beginning of the shift to the end, this forklift was designed for optimal comfort. Operators can easily adjust the seat to their preferences – from forward and backward adjustments, to added lumbar support and suspension. The low profile steering wheel also provides extra space and comfort. Ergonomic Hydraulic Levers, Optional Fingertip Controls: Located next to the seat, the hydraulic levers allow the operator's arm to rest in a natural, relaxed position while working. Optional fingertip controls are also available for added productivity.

Convenience On The Go

An ample storage compartment and optional
USB charging port keeps the extra tools they need charged and close at hand.

Mitsubishi Mid-Size Electric Cushion Forklift available for Purchase, Lease, Rent, or Demo! Forklift and Warehouse Equipment Sales, Service, and Support from Fallsway in 22 counties in Ohio, Pennsylvania, and West Virginia.

Have a question? Contact us today!

Form

Meta Description
4500; 6500; lb; capacity; forklift; electric; cushion; tire; forklift; Mitsubishi; FBC23N; FBC30LN; lift; warehouse; equipment; for sale; ohio; service; parts; rentals
Downloads
FBC23N - FBC30LN Information Brochure
4,500 - 6,500 lb capacity electric cushion tire forklifts from Mitsubishi.
From the beginning of the shift to the end, this forklift was designed for optimal comfort. Operators can easily adjust the seat to their preferences – from forward and backward adjustments, to added lumbar support and suspension. The low profile steering wheel also provides extra space and comfort. Ergonomic Hydraulic Levers, Optional Fingertip Controls: Located next to the seat, the hydraulic levers allow the operator's arm to rest in a natural, relaxed position while working. Optional fingertip controls are also available for added productivity.
Convenience On The Go
An ample storage compartment and optional
USB charging port keeps the extra tools they need charged and close at hand.
Mitsubishi Mid-Size Electric Cushion Forklift available for Purchase, Lease, Rent, or Demo! Forklift and Warehouse Equipment Sales, Service, and Support from Fallsway in 22 counties in Ohio, Pennsylvania, and West Virginia.
Have a question? Contact us today!
Equipment Information Request