Mitsubishi Small Electric Cushion Forklift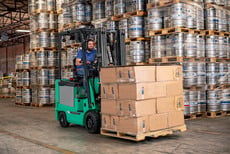 Name
Mitsubishi Small Electric Cushion Forklift
Featured Image


Link
/mitsubishi-fbc15-fbc18n
Fuel Type
Electric

Application
Warehouse

Tires
Cushion

Lift Capacity
2,000 - 4,000

Brand
Mitsubishi

Content

The 3,000 - 4,000 lb capacity electric cushion tire lift truck from Mitsubishi (FBC15N-FBC18LN Series) offers:

Designed for superior comfort
Adjustable seating to suit your operators
Optimized visibility

All come together to create a comfortable forklift you can count on.

Redesigned For Reliability And Functionality

The FBC series is focused on efficiency. It features new controllers to improve energy efficiency and easy to remove panels to allow for easier maintenance. The 4-inch full-color display and foot-operated parking brake allow for increased productivity during the workday.

Fallsway proudly sells, services, and supports Mitsubishi Lift Trucks across 22 counties in Ohio, Pennsylvania, and West Virginia. Mitsubishi Small Electric Cushion Forklift available for Purchase, Lease, Rent, or Demo!

Have a question? Contact us today!

Form

Meta Description
3,000 - 4,000 lb capacity electric cushion tire lift truck from Mitsubishi. Warehouse equipment sales, service, parts, and rentals from Fallsway.
Downloads
FBC15N-FBC18LN Information Brochure
The 3,000 - 4,000 lb capacity electric cushion tire lift truck from Mitsubishi (FBC15N-FBC18LN Series) offers:
Designed for superior comfort
Adjustable seating to suit your operators
Optimized visibility
All come together to create a comfortable forklift you can count on.
Redesigned For Reliability And Functionality
The FBC series is focused on efficiency. It features new controllers to improve energy efficiency and easy to remove panels to allow for easier maintenance. The 4-inch full-color display and foot-operated parking brake allow for increased productivity during the workday.
Fallsway proudly sells, services, and supports Mitsubishi Lift Trucks across 22 counties in Ohio, Pennsylvania, and West Virginia. Mitsubishi Small Electric Cushion Forklift available for Purchase, Lease, Rent, or Demo!
Have a question? Contact us today!
Equipment Information Request