Mitsubishi High-Level Order Picker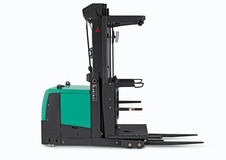 Name
Mitsubishi High-Level Order Picker
Featured Image


Link
/mitsubishi-eop15n3
Fuel Type
Electric

Lift Capacity
2,000 - 4,000
< 1,999

Brand
Mitsubishi

Content

Take your order picking efficiency and perfomance to the next level.

Runs up to 16 hours on one battery charge*
Lifts up to 30 ft. without sacrificing on stability
Sealed components provide maximum reliability
Smart technology options for even greater productivity

With a load capacity of up to 3,000 lbs, the EOP15N3 high-level order picker is designed to deliver exceptional reliability and value for your business.

Avaiabable for Purchase, Lease, Rent, or Demo!

Have a question? Contact us today!

Form

Meta Description
The EOP15N3 High-Level Order Picker from Mitsubishi. Available for sale, rent, or demo from Fallsway Equipment.
Downloads
EOP15N3 Information Brochure
Take your order picking efficiency and perfomance to the next level.
Runs up to 16 hours on one battery charge*
Lifts up to 30 ft. without sacrificing on stability
Sealed components provide maximum reliability
Smart technology options for even greater productivity
With a load capacity of up to 3,000 lbs, the EOP15N3 high-level order picker is designed to deliver exceptional reliability and value for your business.
Avaiabable for Purchase, Lease, Rent, or Demo!
Have a question? Contact us today!
Equipment Information Request