Kit R/B Deck Chain/Tie Down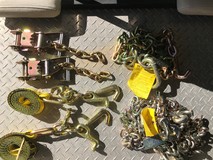 Name
Kit R/B Deck Chain/Tie Down
Featured Image


Link
/kit-r-b-deck-chain-tie-dwn
Content

Fallsway Equipment is a long-time used equipment dealer and can help you with all your parts and service needs.

The picture is a Kit R/B Deck Chain/Tie Down.

*PHOTOS MAY NOT SHOW EXTENT OF USED PARTS THAT WE CURRENTLY HAVE IN INVENTORY*

Call us at 330-633-6000 for a full list of products we have for our used parts inventory.

Have a question? Contact us today!

Form

Meta Description
KIT R/B DECK CHAIN/TIE DWN (CARTON1)
Fallsway Equipment is a long-time used equipment dealer and can help you with all your parts and service needs.
The picture is a Kit R/B Deck Chain/Tie Down.
*PHOTOS MAY NOT SHOW EXTENT OF USED PARTS THAT WE CURRENTLY HAVE IN INVENTORY*
Call us at 330-633-6000 for a full list of products we have for our used parts inventory.
Have a question? Contact us today!
Equipment Information Request