Kalmar Light Electric Pneumatic Forklift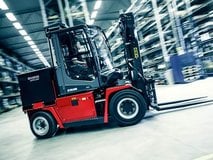 Name
Kalmar Light Electric Pneumatic Forklift
Featured Image


Link
/kalmar-ecg50-90
Fuel Type
Electric

Application
Rough Terrain
Indoor & Outdoor

Tires
Pneumatic

Lift Capacity
12,001 - 15,000
15,001 - 20,000
10,001 - 12,000

Brand
Kalmar

Content

The Kalmar ECG50-90 electric forklift (10,000lb - 18,000lb capacity) offers you the market-leading total cost of ownership thanks to higher operational efficiency, longer lifetime expectancy, and lower maintenance cost. Designed to save you money in the long-term through reliability and operator safety, enjoy quality and safety that makes a difference. Not only is this forklift wallet-friendly, but it is also environmentally friendly. Going electric means no more greenhouse gases, harmful vibrations, or noise, however, the ECG50-90 also does not sacrifice power or features that most competitors do.

Working with you to create a winning concept in the long run: the Kalmar ECG50-90!

Have a question? Contact us today!

Form

Meta Description
10,000 - 18,000 lb max lift capacity electric pneumatic tire rough terrain forklifts from Kalmar. Sales, Service, and Parts from Fallsway.
Downloads
Kalmar ECG50-90 Electric Forklift Brochure
The Kalmar ECG50-90 electric forklift (10,000lb - 18,000lb capacity) offers you the market-leading total cost of ownership thanks to higher operational efficiency, longer lifetime expectancy, and lower maintenance cost. Designed to save you money in the long-term through reliability and operator safety, enjoy quality and safety that makes a difference. Not only is this forklift wallet-friendly, but it is also environmentally friendly. Going electric means no more greenhouse gases, harmful vibrations, or noise, however, the ECG50-90 also does not sacrifice power or features that most competitors do.
Working with you to create a winning concept in the long run: the Kalmar ECG50-90!
Have a question? Contact us today!
Equipment Information Request