Kalmar Medium Diesel Pneumatic Forklift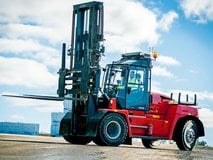 Name
Kalmar Medium Diesel Pneumatic Forklift
Featured Image


Link
/kalmar-dcg90-180
Fuel Type
Diesel

Application
Rough Terrain
Indoor & Outdoor

Tires
Pneumatic

Lift Capacity
15,001 - 20,000
20,001 - 30,000

Brand
Kalmar

Content

Designed to deliver greater total lifetime savings, the DCG90-180 is the medium range of forklift trucks from Kalmar (18,000 - 36,000 lb capacity). Give your operators what they need to maximize productivity! When a forklift goes down, not only is it costly, but it also can bring your operation to a halt. With the DCG90-180, enjoy unmatched reliability and durability, leading to superior truck uptime and savings on fuel and maintenance.

Made to perform. Designed to last. Increase productivity while lowering your overall cost of ownership with the Kalmar DCG90-180.

Have a question? Contact us today!

Form

Meta Description
18,000 - 36,000 lb capacity diesel pneumatic tire rough-terrain forklift from Kalmar. Equipment sales, service, and support from Fallsway Equipment.
Downloads
Kalmar DCG90-180 Brochure
Designed to deliver greater total lifetime savings, the DCG90-180 is the medium range of forklift trucks from Kalmar (18,000 - 36,000 lb capacity). Give your operators what they need to maximize productivity! When a forklift goes down, not only is it costly, but it also can bring your operation to a halt. With the DCG90-180, enjoy unmatched reliability and durability, leading to superior truck uptime and savings on fuel and maintenance.
Made to perform. Designed to last. Increase productivity while lowering your overall cost of ownership with the Kalmar DCG90-180.
Have a question? Contact us today!
Equipment Information Request