Jungheinrich Trailers and Trolleys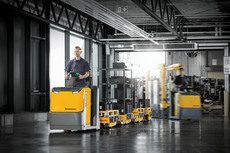 Name
Jungheinrich Trailers and Trolleys
Featured Image


Link
/jungheinrich-gte-106-312-trailer
Fuel Type
Manual

Lift Capacity
2,000 - 4,000
< 1,999

Brand
Jungheinrich

Content

The GTE 106 / 312

Our E-frame trailers provide flexible economical transporting of loads of up to 2,600 lbs. per trailer. These can be connected so they can be loaded or unloaded on both sides. The central axle helps to ensure directional stability even with long trains and while maneuvering in tight spaces.

These electrically connected trailers offer a clean, problem-free, and safe operation environment.

Have a question? Contact us today!

Form

Meta Description
Providing support for loads up to 2600 lbs. Available for purchase, rent, or demo from Fallsway Equipment.
Downloads
GTE 106/312 Spec Sheet
RW .6T and 1.2T Trolley for GTE Trailers
The GTE 106 / 312
Our E-frame trailers provide flexible economical transporting of loads of up to 2,600 lbs. per trailer. These can be connected so they can be loaded or unloaded on both sides. The central axle helps to ensure directional stability even with long trains and while maneuvering in tight spaces.
These electrically connected trailers offer a clean, problem-free, and safe operation environment.
Have a question? Contact us today!
Equipment Information Request