Jungheinrich Large Tow Tractor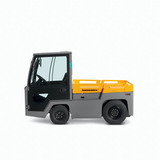 Name
Jungheinrich Large Tow Tractor
Featured Image


Link
/jungheinrich-ezs-7280na
Fuel Type
Electric

Lift Capacity
> 40,000

Brand
Jungheinrich

Content

61,700 lb. capacity Large Tow Tractor from Jungheinrich.

The EZS 7280NA

The Jungheinrich® EZS 7280 sit-on tow tractor is ideal for the transport of heavy loads across the airport tarmac or the premises of industrial companies. Customers can choose
between the standard EZS 7280NA or the EZS 7280NA XL which accommodates a larger battery compartment.

The EZS series features a wide range of options to choose from:

Various cab configurations are available for adverse conditions.
Hinged or sliding door to protect the operators from the elements during their shifts.
Automotive-style pedal configuration.
Adjustable steering wheel position to enable operators of various sizes to drive the EZS 7280 comfortably.

Available for Purchase, Lease, Rent, or Demo!

Have a question? Contact us today!

Form

Meta Description
61,700 lb. capacity Large Tow Tractor from Jungheinrich. Available for purchase, lease ,or rent from Fallsway Equipment.
Downloads
ESZ 7280 Tow Tractor Spec Sheet
61,700 lb. capacity Large Tow Tractor from Jungheinrich.
The EZS 7280NA
The Jungheinrich® EZS 7280 sit-on tow tractor is ideal for the transport of heavy loads across the airport tarmac or the premises of industrial companies. Customers can choose
between the standard EZS 7280NA or the EZS 7280NA XL which accommodates a larger battery compartment.
The EZS series features a wide range of options to choose from:
Various cab configurations are available for adverse conditions.
Hinged or sliding door to protect the operators from the elements during their shifts.
Automotive-style pedal configuration.
Adjustable steering wheel position to enable operators of various sizes to drive the EZS 7280 comfortably.
Available for Purchase, Lease, Rent, or Demo!
Have a question? Contact us today!
Equipment Information Request