Jungheinrich Small Tow Tractor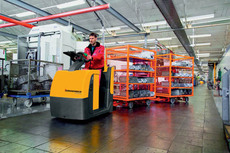 Name
Jungheinrich Small Tow Tractor
Featured Image


Link
/jungheinrich-ezs-350na-c40na
Fuel Type
Electric

Lift Capacity
8,001 - 10,000
10,001 - 12,000

Brand
Jungheinrich

Content

The EZS350NA / C40NA Tow Tractor (11,000 / 8,800 lbs.)

The EZS 350NA/C40NA tow tractors offer high performance for increased productivity. By combining Jungheinrich® AC technology with advanced regenerative braking, these models can efficiently work up to two shifts on a single battery charge in most applications. Combined with its effortless and intuitive electric power steering, these tow tractors put your operators in control.



Available for Purchase, Lease, Rent, or Demo!

Have a question? Contact us today!

Form

Meta Description
11000 - 8800 lbs Tow Tractor from Jungheinrich. Available for purchase, lease, or demo from Fallsway Equipment.
Downloads
EZS 350NA / C40 Spec Sheet
The EZS350NA / C40NA Tow Tractor (11,000 / 8,800 lbs.)
The EZS 350NA/C40NA tow tractors offer high performance for increased productivity. By combining Jungheinrich® AC technology with advanced regenerative braking, these models can efficiently work up to two shifts on a single battery charge in most applications. Combined with its effortless and intuitive electric power steering, these tow tractors put your operators in control.


Available for Purchase, Lease, Rent, or Demo!
Have a question? Contact us today!
Equipment Information Request