Jungheinrich AGV Tow Tractor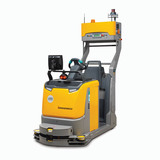 Name
Jungheinrich AGV Tow Tractor
Featured Image


Link
/jungheinrich-ezs-350a-na
Fuel Type
Electric

Lift Capacity
10,001 - 12,000

Brand
Jungheinrich

Content

Improve your work process with the Jungheinrich EZS 350a NA (AGV) Electric Tow Tractor. With an 11,000 lb. capacity, this tugger combines precision navigation technology with proven mechanical engineering. The modular system structure creates the best conditions for representing your individual processes, as well as reacting flexibly and quickly to process changes. This creates a solid basis for efficient use, regardless of the specific needs of your operation.

Key Benefits:

Automated, reliable and efficient for performing routine tasks
Optimized transport routes
Utilization of existing routes
Short payback period
Manual or fully-automated operation

Thinking about automating your material handling fleet? Our experts will answer whatever questions you may have and work with you to find the best solution for you! We understand this is a big step for any company, which is why we work at your pace and provide you with all the information you will need to make an informed decision.

Have a question? Contact us today!

Form

Meta Description
The Jungheinrich EZS 350a NA is a 11,000 lb capacity AGV electric tow tractor. Automated Guided Vehicle Solutions from Fallsway.
Downloads
Jungheinrich EZS 350a NA (AGV) Brochure
Improve your work process with the Jungheinrich EZS 350a NA (AGV) Electric Tow Tractor. With an 11,000 lb. capacity, this tugger combines precision navigation technology with proven mechanical engineering. The modular system structure creates the best conditions for representing your individual processes, as well as reacting flexibly and quickly to process changes. This creates a solid basis for efficient use, regardless of the specific needs of your operation.
Key Benefits:
Automated, reliable and efficient for performing routine tasks
Optimized transport routes
Utilization of existing routes
Short payback period
Manual or fully-automated operation
Thinking about automating your material handling fleet? Our experts will answer whatever questions you may have and work with you to find the best solution for you! We understand this is a big step for any company, which is why we work at your pace and provide you with all the information you will need to make an informed decision.
Have a question? Contact us today!
Equipment Information Request