Jungheinrich Multi-Directional Moving Mast Reach Truck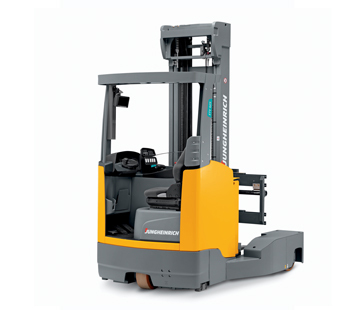 Name
Jungheinrich Multi-Directional Moving Mast Reach Truck
Featured Image


Link
/jungheinrich-etv-q20-q25
Fuel Type
Electric

Lift Capacity
4,001 - 6,000

Brand
Jungheinrich

Content

4,400; 5,500 lb. Capacity Moving Mast Electric Reach Trucks

The Jungheinrich ETV Q20/Q25 is different than the other reach trucks thanks to the effortless, intuitive handling. If your application calls for carrying long items down narrow aisles and it needs to be lifted to taller storage elevation, this is perfect for you! These units, with electric all-wheel steering, allow for transport of loads of up to 26 feet in length, which helps maximize space in the warehouse. Find the right truck for your operation by choosing from a range of options and battery compartment sizes.

Key Benefits:

Travel in multiple directions with electronically-controlled all-wheel steering
Generously-sized operator seat
Jungheinrich curveCONTROL for advanced stability during cornering
Optional hydraulic fork positioner for different load widths

Buy, Lease, Rent, or Demo today! Increase productivity and maximize your warehouse by investing in the ETV Q20/Q25 multi-directional reach truck from Jungheinrich!

Have a question? Contact us today!

Form

Meta Description
The ETV Q20/Q25 multi-directional reach trucks are used wherever long items are carried down narrow aisles and need to be lifted to taller storage elevations. Available for purchase, lease, or demo from Fallsway Equipment.
Downloads
Jungheinrich ETV Q20/Q25 Multi-Direction Reach Truck Brochure and Spec Sheet
4,400; 5,500 lb. Capacity Moving Mast Electric Reach Trucks
The Jungheinrich ETV Q20/Q25 is different than the other reach trucks thanks to the effortless, intuitive handling. If your application calls for carrying long items down narrow aisles and it needs to be lifted to taller storage elevation, this is perfect for you! These units, with electric all-wheel steering, allow for transport of loads of up to 26 feet in length, which helps maximize space in the warehouse. Find the right truck for your operation by choosing from a range of options and battery compartment sizes.
Key Benefits:
Travel in multiple directions with electronically-controlled all-wheel steering
Generously-sized operator seat
Jungheinrich curveCONTROL for advanced stability during cornering
Optional hydraulic fork positioner for different load widths
Buy, Lease, Rent, or Demo today! Increase productivity and maximize your warehouse by investing in the ETV Q20/Q25 multi-directional reach truck from Jungheinrich!
Have a question? Contact us today!
Equipment Information Request