Jungheinrich Large Sit-Down Moving Mast Reach Truck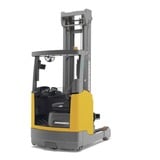 Name
Jungheinrich Large Sit-Down Moving Mast Reach Truck
Featured Image


Link
/jungheinrich-etv-etm-318-325
Fuel Type
Electric

Lift Capacity
2,000 - 4,000
4,001 - 6,000

Brand
Jungheinrich

Content

ETV 318 / 320 / 325 and ETM 325 Sit-Down Moving Mast Reach Truck (3,900-5,500 lbs.)

The ETV/ETM 3 Series sit-down moving mast reach trucks from Jungheinrich combine a compact design to increase maneuverability, with an ergonomic and spacious operator compartment. Regardless of your operation, enjoy the versatility of a reach truck that offers the right solution for a wide range of applications.

Key Benefits:

Efficient, yet powerful 3-phase AC drive, lift and steering control
Spacious and ergonomic operator compartment
Compact design to maximize maneuverability
The right drive and lifting performance package to match your material handling needs
Outstanding capacity retention and load stability at high lift heights

Buy, Lease, Rent, or Demo today!

Have a question? Contact us today!

Form

Meta Description
Enjoy the compact design of this moving mast reach truck from Jungheinrich.
Downloads
ETV/ETM 3 Series Brochure
ETV 318 / 320 / 325 and ETM 325 Sit-Down Moving Mast Reach Truck (3,900-5,500 lbs.)
The ETV/ETM 3 Series sit-down moving mast reach trucks from Jungheinrich combine a compact design to increase maneuverability, with an ergonomic and spacious operator compartment. Regardless of your operation, enjoy the versatility of a reach truck that offers the right solution for a wide range of applications.
Key Benefits:
Efficient, yet powerful 3-phase AC drive, lift and steering control
Spacious and ergonomic operator compartment
Compact design to maximize maneuverability
The right drive and lifting performance package to match your material handling needs
Outstanding capacity retention and load stability at high lift heights
Buy, Lease, Rent, or Demo today!
Have a question? Contact us today!
Equipment Information Request