Jungheinrich Indoor/Outdoor Moving Mast Reach Truck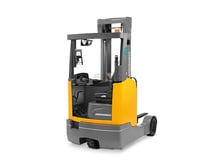 Name
Jungheinrich Indoor/Outdoor Moving Mast Reach Truck
Featured Image


Link
/jungheinrich-etv-c16-c20
Fuel Type
Electric

Lift Capacity
2,000 - 4,000
4,001 - 6,000

Brand
Jungheinrich

Content

ETV C16 / ETV C20 Electric Moving Mast Reach Truck (3,500 / 4,400 lbs.)

The multi-purpose moving mast reach truck from Jungheinrich, the ETV C16/C20, defines what it means to be quick and efficient. Equipped with pneumatic tires for both indoor and outdoor use, it is made to keep up with your operation. Whether handling pallets, operating in single or multi-shift applications or frequently working outside, these reach trucks are suitable for operation on smooth concrete, warehouse floors, and loading/unloading on bumpy asphalt surfaces.

Key benefits:

Jungheinrich® proprietary 3-phase AC technology in the drive, lift and, steering motors
Side-facing seat providing unmatched visibility for transporting high loads
Smooth and sensitive operation with the patented soloPILOT hydraulic control
Solid pneumatic tires and high ground clearance for indoor and outdoor use
Jungheinrich curveCONTROL for advanced stability during cornering
Optional all-weather cabins for frequent outdoor applications

Buy, Lease, Rent, or Demo today! Whether handling pallets, working in drive-in racking or operating outside, the Jungheinrich ETV C16/C20 provides the ideal solution for nearly every application.

Have a question? Contact us today!

Form

Meta Description
The ETV C16/C20 moving mast reach truck from Jungheinrich defines versatility. Available for purchase, lease, or demo from Fallsway Equipment.
Downloads
Jungheinrich ETV C16/C20 Brochure
ETV C16 / ETV C20 Electric Moving Mast Reach Truck (3,500 / 4,400 lbs.)
The multi-purpose moving mast reach truck from Jungheinrich, the ETV C16/C20, defines what it means to be quick and efficient. Equipped with pneumatic tires for both indoor and outdoor use, it is made to keep up with your operation. Whether handling pallets, operating in single or multi-shift applications or frequently working outside, these reach trucks are suitable for operation on smooth concrete, warehouse floors, and loading/unloading on bumpy asphalt surfaces.
Key benefits:
Jungheinrich® proprietary 3-phase AC technology in the drive, lift and, steering motors
Side-facing seat providing unmatched visibility for transporting high loads
Smooth and sensitive operation with the patented soloPILOT hydraulic control
Solid pneumatic tires and high ground clearance for indoor and outdoor use
Jungheinrich curveCONTROL for advanced stability during cornering
Optional all-weather cabins for frequent outdoor applications
Buy, Lease, Rent, or Demo today! Whether handling pallets, working in drive-in racking or operating outside, the Jungheinrich ETV C16/C20 provides the ideal solution for nearly every application.
Have a question? Contact us today!
Equipment Information Request