Jungheinrich Small Sit-Down Moving Mast Reach Truck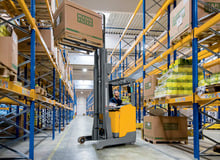 Name
Jungheinrich Small Sit-Down Moving Mast Reach Truck
Featured Image


Link
/jungheinrich-etv-110-112
Fuel Type
Electric

Lift Capacity
2,000 - 4,000

Brand
Jungheinrich

Content

With a capacity of 2,200 - 2,600lb, the ETV 1 series from Jungheinrich is a versatile sit-down moving mast reach truck. Enjoy premium ergonomics that come standard, such as a spacious, highly-adjustable operator compartment suitable for a wide range of operators, automotive-style drive pedals that allow for intuitive operation, and curveCONTROL, which provides automatic speed reduction during cornering.

Key Benefits:

Powerful and efficient 3-phase AC drive, lift, and steering control
Compact design for greater maneuverability
Ergonomic and spacious operator compartment
The right drive and lifting performance package to match your material handling needs
Outstanding capacity retention and load stability at high lift heights

Buy, Lease, Rent, or Demo today!

Have a question? Contact us today!

Form

Meta Description
This small sit-down moving mast truck features a capacity of 2,600 lbs. Available for purchase, lease, or demo from Fallsway Equipment.
Downloads
Jungheinrich ETV 110/112 1 Series Sit-Down Moving Mast Reach Truck Brochure
Moving Mast Reach Truck Brochure
Jungheinrich ETV 1,2,3 Series Brochure
With a capacity of 2,200 - 2,600lb, the ETV 1 series from Jungheinrich is a versatile sit-down moving mast reach truck. Enjoy premium ergonomics that come standard, such as a spacious, highly-adjustable operator compartment suitable for a wide range of operators, automotive-style drive pedals that allow for intuitive operation, and curveCONTROL, which provides automatic speed reduction during cornering.
Key Benefits:
Powerful and efficient 3-phase AC drive, lift, and steering control
Compact design for greater maneuverability
Ergonomic and spacious operator compartment
The right drive and lifting performance package to match your material handling needs
Outstanding capacity retention and load stability at high lift heights
Buy, Lease, Rent, or Demo today!
Have a question? Contact us today!
Equipment Information Request