Jungheinrich Stand-up Counterbalance Forklift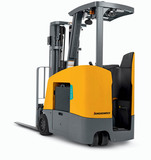 Name
Jungheinrich Stand-up Counterbalance Forklift
Featured Image


Link
/jungheinrich-etg-214-318
Fuel Type
Electric

Application
Warehouse
Indoor & Outdoor

Tires
Cushion

Lift Capacity
2,000 - 4,000

Brand
Jungheinrich

Content

Newly designed, the ETG 214-318 Series (3,000 - 4,000 lb capacity) stand-up counterbalanced electric forklift from Jungheinrich provides you with a productive, efficient substitute to the traditional counterbalanced sit-down forklift. If your operation requires the operator to get on and off the equipment regularly or you have narrow aisles, this stand-up lift truck is perfect for you. In addition, enjoy increased safety thanks to improved operator visibility and other features designed to keep your operators safe and productive.

Key benefits:

Adjustable suspended anti-fatigue floorboard
A great solution for applications demanding tight aisle racking, extensive product shuttling or frequent maneuvering in and out of trailers
Tight turning radius utilizing full traction control and dual drive motors for improved maneuverability
Guaranteed to run 16 hours on one battery charge
Electric adjustable armrest and backrest for improved operator comfort
Industry-leading 1,000 hour service intervals

Precise handling, high performance, and industry-leading ergonomics all come standard with the Jungheinrich ETG 214-318 Stand-up Forklift. Buy, Lease, Rent, or Demo today!

Have a question? Contact us today!

Form

Meta Description
3,000 - 4,000 lb capacity stand-up counterbalance forklift from Jungheinrich. Lift truck sales, service, and support from Fallsway, your local solutions provider.
Downloads
Jungheinrich ETG 214-318 Spec Sheet
Jungheinrich ETG 214-318 Brochure
Newly designed, the ETG 214-318 Series (3,000 - 4,000 lb capacity) stand-up counterbalanced electric forklift from Jungheinrich provides you with a productive, efficient substitute to the traditional counterbalanced sit-down forklift. If your operation requires the operator to get on and off the equipment regularly or you have narrow aisles, this stand-up lift truck is perfect for you. In addition, enjoy increased safety thanks to improved operator visibility and other features designed to keep your operators safe and productive.
Key benefits:
Adjustable suspended anti-fatigue floorboard
A great solution for applications demanding tight aisle racking, extensive product shuttling or frequent maneuvering in and out of trailers
Tight turning radius utilizing full traction control and dual drive motors for improved maneuverability
Guaranteed to run 16 hours on one battery charge
Electric adjustable armrest and backrest for improved operator comfort
Industry-leading 1,000 hour service intervals
Precise handling, high performance, and industry-leading ergonomics all come standard with the Jungheinrich ETG 214-318 Stand-up Forklift. Buy, Lease, Rent, or Demo today!
Have a question? Contact us today!
Equipment Information Request