Jungheinrich Sit-On Low-Lift Pallet Truck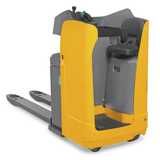 Name
Jungheinrich Sit-On Low-Lift Pallet Truck
Featured Image


Link
/jungheinrich-ese-220-320
Fuel Type
Electric

Lift Capacity
4,001 - 6,000

Brand
Jungheinrich

Content

Ideal for horizontal transport over medium to long distances, the ESE 220 / 320 electric sit-on low-lift pallet truck from Jungheinrich offers excellent visibility and a comfortable working environment thanks to their side-seated operator position. A great advantage, especially where frequent changes of direction are required, enjoy high driving speeds and acceleration, a sturdy chassis for high operational demands, a display with steering position indicator, electric steering for easy maneuvering, and excellent energy management for low operating costs.

Key Benefits:

Side-seated driving position to enhance driver performance
Ideal for loading and unloading trailers and for load transportation over longer distances
Electric steering for optimized control
Rapid acceleration for high productivity

Available for Purchase, Lease, Rent, or Demo today!

Have a question? Contact us today!

Form

Meta Description
The ESE220-320 Jungheinrich Sit-On Low-Lift Pallet Truck. Available for purchase, lease, or demo from Fallsway Equipment.
Downloads
Jungheinrich ESE 220-320 Sit-on low-lift pallet truck Brochure
Ideal for horizontal transport over medium to long distances, the ESE 220 / 320 electric sit-on low-lift pallet truck from Jungheinrich offers excellent visibility and a comfortable working environment thanks to their side-seated operator position. A great advantage, especially where frequent changes of direction are required, enjoy high driving speeds and acceleration, a sturdy chassis for high operational demands, a display with steering position indicator, electric steering for easy maneuvering, and excellent energy management for low operating costs.
Key Benefits:
Side-seated driving position to enhance driver performance
Ideal for loading and unloading trailers and for load transportation over longer distances
Electric steering for optimized control
Rapid acceleration for high productivity
Available for Purchase, Lease, Rent, or Demo today!
Have a question? Contact us today!
Equipment Information Request