Jungheinrich Powered Pallet Truck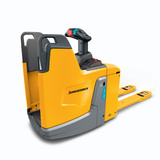 Name
Jungheinrich Powered Pallet Truck
Featured Image


Link
/jungheinrich-ere-125-225-225dp
Fuel Type
Electric

Lift Capacity
4,001 - 6,000

Brand
Jungheinrich

Content

Combine the compact design of a walkie end rider with the maneuverability and comfort of a counterbalance forklift with the ERE 125/225/225DP electric powered pallet truck from Jungheinrich. With a capacity of up to 5,500 lbs, this versatile truck is designed to adapt to your specific operation. Whether looking to load/unload trailers, order picking inside the aisle, or transport loads across the warehouse, the ERE series has a solution. A comfortable operator is a productive operator, this pallet truck is highly customizable to the operator's specific requirements.

Key Benefits:

Powerful 3-phase AC drive motor for optimum performance
Electric-powered pallet truck with a stand-on platform (5,500 lbs.) and fully enclosed integrated charger
Innovative operator compartment with four platform options to enhance productivity
shockPROTECT: spring-loaded drive unit cushions the operator, truck, and load
Optional positionCONTROL: an automated function that raises and lowers pallets to predefined heights at the touch of a button

Available for Purchase, Lease, Rent, or Demo!

Have a question? Contact us today!

Form

Meta Description
5500 lb Electric Powered Pallet Truck from Jungheinrich. Available for purchase, lease, or demo from Fallsway Equipment.
Downloads
ERE 125/225/225DP Information Brochure
Combine the compact design of a walkie end rider with the maneuverability and comfort of a counterbalance forklift with the ERE 125/225/225DP electric powered pallet truck from Jungheinrich. With a capacity of up to 5,500 lbs, this versatile truck is designed to adapt to your specific operation. Whether looking to load/unload trailers, order picking inside the aisle, or transport loads across the warehouse, the ERE series has a solution. A comfortable operator is a productive operator, this pallet truck is highly customizable to the operator's specific requirements.
Key Benefits:
Powerful 3-phase AC drive motor for optimum performance
Electric-powered pallet truck with a stand-on platform (5,500 lbs.) and fully enclosed integrated charger
Innovative operator compartment with four platform options to enhance productivity
shockPROTECT: spring-loaded drive unit cushions the operator, truck, and load
Optional positionCONTROL: an automated function that raises and lowers pallets to predefined heights at the touch of a button
Available for Purchase, Lease, Rent, or Demo!
Have a question? Contact us today!
Equipment Information Request