Jungheinrich Light-Duty Fork Over Walkie Stacker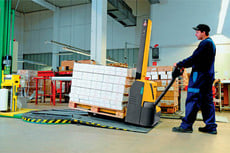 Name
Jungheinrich Light-Duty Fork Over Walkie Stacker
Featured Image


Link
/jungheinrich-emc-110
Fuel Type
Electric

Lift Capacity
2,000 - 4,000
< 1,999

Brand
Jungheinrich

Content

Combine efficiency, productivity, and operator safety with the user-friendly design on the EMC 100 fork over electric walkie stacker from Jungheinrich. With a lifting capacity of 2,200 pounds, enjoy effortless operation thanks to the excellent ergonomics. The EMC 100 is versatile, being able to handle many different short-height applications.

Key Benefits:

Compact and maneuverable
Ergonomic, multifunction control handle
Highly efficient 3-phase AC drive motor
Easily maneuvered with the handle in the vertical position by pressing the crawl-speed button
Maintenance-free battery pack with integrated charger
Optional proportional lowering for exact pallet placement

Available for Purchase, Lease, Rent, or Demo!

Have a question? Contact us today!

Form

Meta Description
Jungheinrich EMC 110 Fork Over Walkie Stacker. Available for purchase, lease, or rent from Fallsway Equipment.
Downloads
EMC110 Brochure
Combine efficiency, productivity, and operator safety with the user-friendly design on the EMC 100 fork over electric walkie stacker from Jungheinrich. With a lifting capacity of 2,200 pounds, enjoy effortless operation thanks to the excellent ergonomics. The EMC 100 is versatile, being able to handle many different short-height applications.
Key Benefits:
Compact and maneuverable
Ergonomic, multifunction control handle
Highly efficient 3-phase AC drive motor
Easily maneuvered with the handle in the vertical position by pressing the crawl-speed button
Maintenance-free battery pack with integrated charger
Optional proportional lowering for exact pallet placement
Available for Purchase, Lease, Rent, or Demo!
Have a question? Contact us today!
Equipment Information Request