Jungheinrich High-Level Order Picker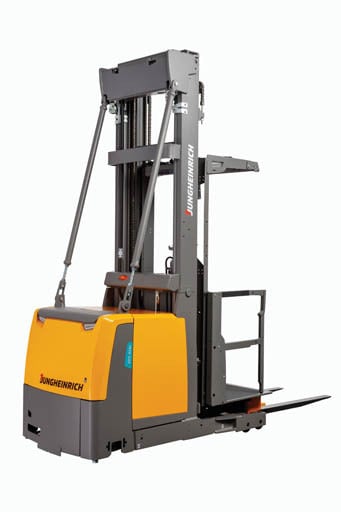 Name
Jungheinrich High-Level Order Picker
Featured Image


Link
/jungheinrich-eks-414s
Fuel Type
Electric

Lift Capacity
2,000 - 4,000

Brand
Jungheinrich

Content

Powerful but efficient, the Jungheinrich EKS 414s High-Level Order Picker offers the tallest lift height among all vertical order pickers on the market, reaching heights over 45 ft. Reduce energy loss by almost 50% thanks to the synchronous reluctance lift motor combined with 48-v control technology, still while keeping the advantages of three-phase AC motors. Also, thanks to the ergonomic operator compartment with a spacious cabin, ergonomic floor mat, easy entry with low step-up height, excellent all-around visibility, and optimized operating concepts, operators and safety managers love it!

Key Benefits:

Synchronous reluctance motor converts energy into power and lowers energy consumption
Ergonomic and adjustable operating concept
Up to 25 percent more throughput with optional warehouse NAVIGATION
Excellent visibility in warehouse operation

Buy, Lease, Rent, or Demo today! Find out for yourself why Jungheinrich Order Pickers are the best on the market and why when you try them, you will never want to go back!

Have a question? Contact us today!

Form

Meta Description
The EKS412s-414s High-Level Order Picker from Jungheinrich. Available for sale, rent, or demo from Fallsway Equipment.
Downloads
Jungheinrich EKS 414s High-Level Order Picker Brochure
Powerful but efficient, the Jungheinrich EKS 414s High-Level Order Picker offers the tallest lift height among all vertical order pickers on the market, reaching heights over 45 ft. Reduce energy loss by almost 50% thanks to the synchronous reluctance lift motor combined with 48-v control technology, still while keeping the advantages of three-phase AC motors. Also, thanks to the ergonomic operator compartment with a spacious cabin, ergonomic floor mat, easy entry with low step-up height, excellent all-around visibility, and optimized operating concepts, operators and safety managers love it!
Key Benefits:
Synchronous reluctance motor converts energy into power and lowers energy consumption
Ergonomic and adjustable operating concept
Up to 25 percent more throughput with optional warehouse NAVIGATION
Excellent visibility in warehouse operation
Buy, Lease, Rent, or Demo today! Find out for yourself why Jungheinrich Order Pickers are the best on the market and why when you try them, you will never want to go back!
Have a question? Contact us today!
Equipment Information Request