Jungheinrich Medium-Level Order Picker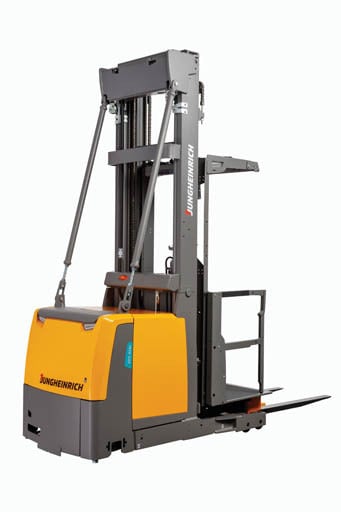 Name
Jungheinrich Medium-Level Order Picker
Featured Image


Link
/jungheinrich-eks-314
Fuel Type
Electric

Lift Capacity
2,000 - 4,000

Brand
Jungheinrich

Content

The EKS 314 High-Level Order Picker from Jungheinrich is built for your operators. Reaching up to 30 feet in the air and 3,000lb capacity, this order picker sets the standard and will take your operation to the next level of productivity and efficiency.

Key benefits:

High Performance -Top travel and hydraulic lift speeds take order picking efficiency and performance to the next level.
Long Run Times - Guaranteed 2 shifts on 1 battery charge, running 16 operating hours, maximizing your operator's productivity with more picks per shift.
Unmatched Stability - Keep your operators comfortable throughout their shift. with the key stability features along with the advanced ergonomic design.
Advanced Awareness - Increase awareness with the full-color interactive display panel showing key-performance-indicators and truck status information.
Low Maintenance - Save time and money by reducing the need for routine maintenance with extended 1,000-hour service intervals.

Buy, Lease, Rent, or Demo today! Delivering long run times and long-term value, the Jungheirnich EKS 314 delivers, from the ground up!

Have a question? Contact us today!

Form

Meta Description
The EKS314 Jungheinrich Medium-Level Order Picker from Jungheinrich. Available for sale, rent, or demo from Fallsway Equipment.
Downloads
Jungheinrich EKS 314 Order Picker Informational Brochure
Jungheinrich EKS 314 Order Picker Spec Sheet
The EKS 314 High-Level Order Picker from Jungheinrich is built for your operators. Reaching up to 30 feet in the air and 3,000lb capacity, this order picker sets the standard and will take your operation to the next level of productivity and efficiency.
Key benefits:
High Performance -Top travel and hydraulic lift speeds take order picking efficiency and performance to the next level.
Long Run Times - Guaranteed 2 shifts on 1 battery charge, running 16 operating hours, maximizing your operator's productivity with more picks per shift.
Unmatched Stability - Keep your operators comfortable throughout their shift. with the key stability features along with the advanced ergonomic design.
Advanced Awareness - Increase awareness with the full-color interactive display panel showing key-performance-indicators and truck status information.
Low Maintenance - Save time and money by reducing the need for routine maintenance with extended 1,000-hour service intervals.
Buy, Lease, Rent, or Demo today! Delivering long run times and long-term value, the Jungheirnich EKS 314 delivers, from the ground up!
Have a question? Contact us today!
Equipment Information Request