Jungheinrich Low-Level Order Picker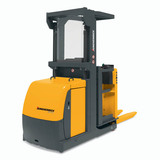 Name
Jungheinrich Low-Level Order Picker
Featured Image


Link
/jungheinrich-eks-110
Fuel Type
Electric

Lift Capacity
2,000 - 4,000

Brand
Jungheinrich

Content

With a maximum platform height of 118", you can reach order picking heights of up to 181". The Jungheinrich EKS 110 vertical order picker has a lifting capacity of 2,200 lbs and is the ideal truck for order picking processes from the first to the third racking levels. Enjoy dynamic acceleration, better handling during cornering, and high maximum speed with the best possible energy utilization with the load/steer angle-dependent curveControl system. Make work easier and more efficient with this industry-best vertical order picker.

Key Benefits

Maximum picking performance with low energy consumption
Powerful motor for maximum throughput efficiency
Optional walk-on load section or auxiliary mast

Buy, Lease, Rent, or Demo today! Experience the EKS110 for yourself!

Have a question? Contact us today!

Form

Meta Description
The EKS110 Low-Level Order Picker from Jungheinrich. Available for sale, rent, or demo from Fallsway Equipment.
Downloads
Jungheinrich EKS 110 Vertical Order Picker Brochure
With a maximum platform height of 118", you can reach order picking heights of up to 181". The Jungheinrich EKS 110 vertical order picker has a lifting capacity of 2,200 lbs and is the ideal truck for order picking processes from the first to the third racking levels. Enjoy dynamic acceleration, better handling during cornering, and high maximum speed with the best possible energy utilization with the load/steer angle-dependent curveControl system. Make work easier and more efficient with this industry-best vertical order picker.
Key Benefits
Maximum picking performance with low energy consumption
Powerful motor for maximum throughput efficiency
Optional walk-on load section or auxiliary mast
Buy, Lease, Rent, or Demo today! Experience the EKS110 for yourself!
Have a question? Contact us today!
Equipment Information Request