Jungheinrich Counterbalance Walkie Stacker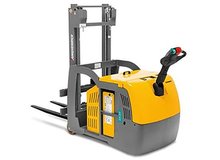 Name
Jungheinrich Counterbalance Walkie Stacker
Featured Image


Link
/jungheinrich-ejg-212-216
Fuel Type
Electric

Lift Capacity
2,000 - 4,000

Brand
Jungheinrich

Content

The EJG 212-216

The EJG 212-216 series of counterbalanced walkie stackers is used for loading and unloading cantilever type storage racking or can be used where support arm walkie stackers cannot operate. With an overall width of 35.4 inches and a high degree of maneuverability, it can also be operated easily in confined warehouse areas. In addition, the EJG 212 offers a very short front dimension.

As a universal truck, the EJG offers a number of advantages:

Gentle depositing of the load on the floor or in the racking with proportional hydraulics.
Minimum noise during lifting.
Electric tiller provides greatly reduced steering force for fatigue-free steering.
Extremely sturdy frame and load section.
High ground clearance and large load wheels for comfortable travel on uneven surfaces.

Available for Purchase, Lease, Rent, or Demo!

Have a question? Contact us today!

Form

Meta Description
Jungheinrich EJG 212-216 | Electric Counterbalanced Walkie Stacker 2600 - 3500
Downloads
EJG 212-216 Brochure
The EJG 212-216
The EJG 212-216 series of counterbalanced walkie stackers is used for loading and unloading cantilever type storage racking or can be used where support arm walkie stackers cannot operate. With an overall width of 35.4 inches and a high degree of maneuverability, it can also be operated easily in confined warehouse areas. In addition, the EJG 212 offers a very short front dimension.
As a universal truck, the EJG offers a number of advantages:
Gentle depositing of the load on the floor or in the racking with proportional hydraulics.
Minimum noise during lifting.
Electric tiller provides greatly reduced steering force for fatigue-free steering.
Extremely sturdy frame and load section.
High ground clearance and large load wheels for comfortable travel on uneven surfaces.
Available for Purchase, Lease, Rent, or Demo!
Have a question? Contact us today!
Equipment Information Request