Jungheinrich Walkie Pallet Truck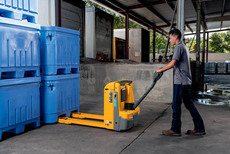 Name
Jungheinrich Walkie Pallet Truck
Featured Image


Link
/jungheinrich-eje-120-225
Fuel Type
Electric

Lift Capacity
4,001 - 6,000

Brand
Jungheinrich

Content

The most versatile walkie pallet truck in the field

Why purchase an EJE 120/225?

AC motor and controller technology provides optimum control and maximum productivity.
Multiple battery options improve maneuverability and flexibility across a range of applications.
Stable, precise movement increases operator confidence.
Superior, ergonomic design increases operator comfort and productivity.
Durable frame and forks extend product life in tough applications.
High energy efficiency extends battery life for longer run times.
Programmable travel parameters allow for customization to the application and operator skill level.
Incredible turning radius, longest run times and excellent acceleration when loaded and unloaded help enhance productivity.
Less maintenance required means lower costs.
Service and support from Jungheinrich dealer network reduces downtime.
Parts Fast or Parts Free ensures that your equipment is serviced quickly and efficiently, with a 97%

Available for Purchase, Lease, Rent, or Demo!

Have a question? Contact us today!

Form

Meta Description
4500 - 6000 lbs capacity electric walkie pallet truck from Jungheinrich. Available for sale, demo, or rent from Fallsway Equipment.
Downloads
EJE Spec Sheet
EJE Brochure
The most versatile walkie pallet truck in the field
Why purchase an EJE 120/225?
AC motor and controller technology provides optimum control and maximum productivity.
Multiple battery options improve maneuverability and flexibility across a range of applications.
Stable, precise movement increases operator confidence.
Superior, ergonomic design increases operator comfort and productivity.
Durable frame and forks extend product life in tough applications.
High energy efficiency extends battery life for longer run times.
Programmable travel parameters allow for customization to the application and operator skill level.
Incredible turning radius, longest run times and excellent acceleration when loaded and unloaded help enhance productivity.
Less maintenance required means lower costs.
Service and support from Jungheinrich dealer network reduces downtime.
Parts Fast or Parts Free ensures that your equipment is serviced quickly and efficiently, with a 97%
Available for Purchase, Lease, Rent, or Demo!
Have a question? Contact us today!
Equipment Information Request