Jungheinrich Man-Down Turret Truck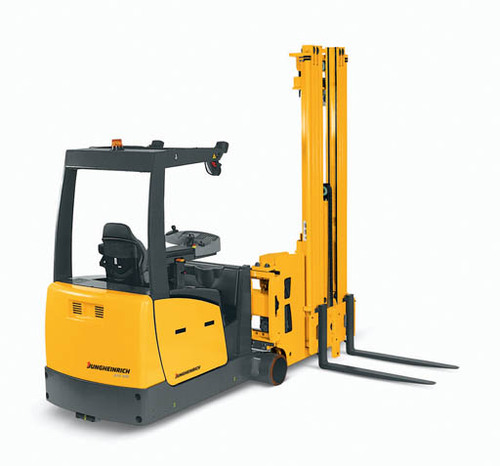 Name
Jungheinrich Man-Down Turret Truck
Featured Image


Link
/jungheinrich-efx-410-413
Content

2,200 - 2,750 lbs Turret Truck (Man-Down) from Jungheinrich.

Unique truck concept with forward-facing seat and side-mounted mast. Unobstructed visibility of the forks, load and travel route warehouseNAVIGATION (optional) optimizes approach time and significantly increases productivity.

Also features:

High flexibility through modular design and RFID technology
Jungheinrich® proprietary 3-phase AC technology for dynamic movement
High level of efficiency: double benefit of energy regeneration and effective energy management

Available for Purchase, Lease, Rent, or Demo!

Have a question? Contact us today!

Form

Meta Description
2,200 - 2,750 lbs Turret Truck (Man-Down) from Jungheinrich. Available for purchase, lease, or demo from Fallsway Equipment.
Downloads
EFX 410-413
2,200 - 2,750 lbs Turret Truck (Man-Down) from Jungheinrich.
Unique truck concept with forward-facing seat and side-mounted mast. Unobstructed visibility of the forks, load and travel route warehouseNAVIGATION (optional) optimizes approach time and significantly increases productivity.
Also features:
High flexibility through modular design and RFID technology
Jungheinrich® proprietary 3-phase AC technology for dynamic movement
High level of efficiency: double benefit of energy regeneration and effective energy management
Available for Purchase, Lease, Rent, or Demo!
Have a question? Contact us today!
Equipment Information Request