Jungheinrich Mid-Size Cushion Forklift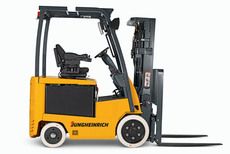 Name
Jungheinrich Mid-Size Cushion Forklift
Featured Image


Link
/jungheinrich-efg-c23-c30l
Fuel Type
Electric

Application
Warehouse

Tires
Cushion

Lift Capacity
4,001 - 6,000
6,001 - 8,000

Brand
Jungheinrich
Mitsubishi

Content

An ideal material handling solution for a wide range of industrial applications, the EFG C23-C30L Series (4,500 - 6,500 lb capacity) from Jungheinrich are sit-down electric counterbalanced lift trucks designed for performance and comfort. Experience top-of-the-line technology to keep your operators productive and secure. With excellent visibility and highly efficient batteries for long run times, there is a lot to like about this newly designed lift truck.

Key Benefits:

Effortlessly control hydraulic functions with optional seat-mounted armrest.

Presence system alerts the

operator to potentially hazardous

situations.

Optimize performance and efficiency with pre-set operating modes.
Premium seat that comes standard offers the most comfortable seating position possible.
Industry-leading, 500-hour extended service intervals.

Higher performance and safety come standard with the Jungheinrich EFGC23-30L electric cushion tire forklift. Find out for yourself and buy, lease, rent, or demo today?

Have a question? Contact us today!

Form

Meta Description
4,500 - 6,500 lb capacity cushion tire electric forklifts from Jungheinrich. Lift Truck sales, service, and support from Fallsway.
Downloads
Jungheinrich EFG C23-C30L Brochure
Jungheinrich EFG C23-C30L Spec Sheet
An ideal material handling solution for a wide range of industrial applications, the EFG C23-C30L Series (4,500 - 6,500 lb capacity) from Jungheinrich are sit-down electric counterbalanced lift trucks designed for performance and comfort. Experience top-of-the-line technology to keep your operators productive and secure. With excellent visibility and highly efficient batteries for long run times, there is a lot to like about this newly designed lift truck.
Key Benefits:
Effortlessly control hydraulic functions with optional seat-mounted armrest.

Presence system alerts the

operator to potentially hazardous

situations.

Optimize performance and efficiency with pre-set operating modes.
Premium seat that comes standard offers the most comfortable seating position possible.
Industry-leading, 500-hour extended service intervals.
Higher performance and safety come standard with the Jungheinrich EFGC23-30L electric cushion tire forklift. Find out for yourself and buy, lease, rent, or demo today?
Have a question? Contact us today!
Equipment Information Request