Jungheinrich Large Pneumatic Forklift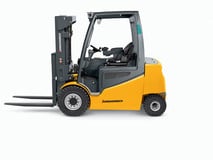 Name
Jungheinrich Large Pneumatic Forklift
Featured Image


Link
/jungheinrich-efg-535k-s502
Fuel Type
Electric

Tires
Pneumatic

Lift Capacity
6,001 - 8,000
8,001 - 10,000
10,001 - 12,000

Brand
Jungheinrich

Content

Designed to work hard in tough conditions, the EFG 535k-S50 electric 4-wheel counterbalanced lift truck from Jungheinrich has a load capacity of 7,000 - 11,000 lbs. Enjoy the powerful drive and lift performance, all while still being able to run up to 2 shifts (16 hours) on one battery charge!

Key Benefits:

Broad capacity range for enhanced flexibility
High performance and high energy efficiency with advanced AC technology
Compact design for increased operation cycles
Ergonomic and easily adjustable operator compartment
Sealed components to help protect against dust and moisture

Combine superior operator comfort and unmatched productivity with the Jungheinrich EFG 535k-S50 electric 4-wheel counterbalanced forklift. Buy, Lease, Rent, or Demo today from Fallsway Equipment Company, your solutions provider for forklift and material handling equipment!

Have a question? Contact us today!

Form

Meta Description
7,000 - 11,000 lb. capacity electric pneumatic tire forklift from Jungheinrich. Lift Truck sales, service, and support from Fallsway Equipment.
Downloads
Jungheinrich EFG 535k-S50 Forklift Brochure
Designed to work hard in tough conditions, the EFG 535k-S50 electric 4-wheel counterbalanced lift truck from Jungheinrich has a load capacity of 7,000 - 11,000 lbs. Enjoy the powerful drive and lift performance, all while still being able to run up to 2 shifts (16 hours) on one battery charge!
Key Benefits:
Broad capacity range for enhanced flexibility
High performance and high energy efficiency with advanced AC technology
Compact design for increased operation cycles
Ergonomic and easily adjustable operator compartment
Sealed components to help protect against dust and moisture
Combine superior operator comfort and unmatched productivity with the Jungheinrich EFG 535k-S50 electric 4-wheel counterbalanced forklift. Buy, Lease, Rent, or Demo today from Fallsway Equipment Company, your solutions provider for forklift and material handling equipment!
Have a question? Contact us today!
Equipment Information Request